Wine & Food Industry
Client: Rosenblum Cellars
Website: www.rosenblumcellars.com

Design Challenges: Rosenblum Cellars needed a complete face lift from there previous look and feel. We incorporated their existing marketing collateral design in to a new website creating a cohesive presentation of the brand.

The winery is now able to manage online orders, signup club members, and produce email marketing campaigns more effectively than before.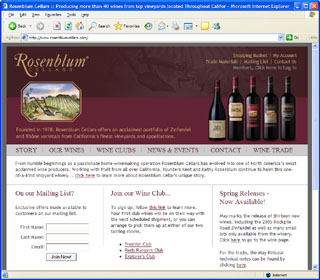 Client: Handley Cellars
Website: www.handleycellars.com
Design Challenges: Out with the old, in with the new... We started from scratch and completely redesigned the Website. Our focus was on navigation that would allow visitors to explore the site more effectively. We also integrated an online store and club submission process so customers can order wines direct from the winery.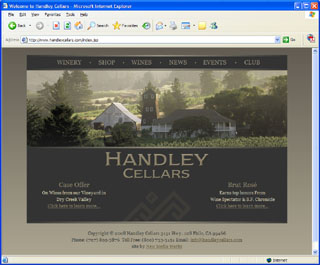 Client: Frank Family Vineyards
Website: www.frankfamilyvineyards.com
Design Challenges: Our goal was to rebuild the Frank Family Vineyards site and integrate their branding into the overall look and feel of the Website. The project also included integrating a custom E-commerce module for direct-to-consumer sales & marketing tools customer relationship management.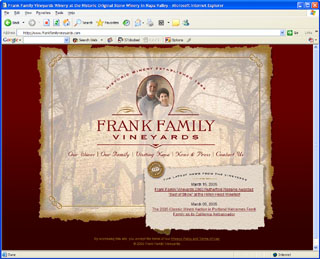 Client: Picazo Vineyards
Website: www.picazovineyards.com
Design Challenges: We took the winery's existing branding and created a clean and easy to navigate Web presence. We also prepared the Website for direct-to-consumer sales. It was important to deliver a user experience that gave consumers the latest information and integrated E-commerce with their wine club program.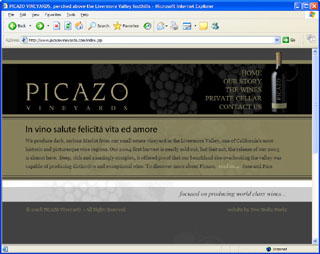 Client: R. Stuart and Co.
Website: www.rstuartandco.com

Design Challenges: R. Stuart and Co. needed a direct-to-consumer program to better manage on-line customer relations. We redesigned the Website with new E-commerce, and a content management solution to better leverage resources.

Now the winery can handle secure online transactions, update content themselves, effectively communicate to their audience with opt-in newsletter sign-ups, and manage new wine club submissions.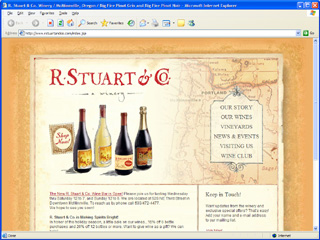 Learn more about Winery Website Design.